The present Bainbridge Island Friends of the Library (BIFOL) grew from a seed group of interested people in 1961. In 1970 the Bainbridge Island Friends of the Library was formally organized (
click here
for a November 1970
Bainbridge Review
article), and in 1973 the IRS granted BIFOL tax-exempt status as a public charitable non-profit organization. As with most Friends groups, the Bainbridge Islanders worked to raise funds to support additional activities at our public library.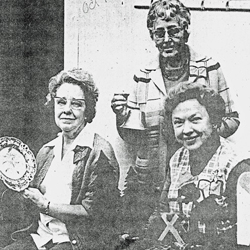 Rummage sales were the initial start of fund raising and there was a natural progression to the sale of donated books. (Photo at right is from a 1973 news article on the FOL rummage sale.)
In 1978, Katie Warner gave the rights to her book "A History of Bainbridge Island" to the Friends of the Library. (
Click here
for an April 1978 article on her book signing party) Over a four year period, the Friends brought in more than $5,000 from the books they had printed and distributed.
The Friends have always worked hard supporting levy issues that enable our library to operate. In addition they have been ardent supporters for the construction and expansion of the physical building housing the library. In the 2017 "Refresh" renovation of the library interior, BIFOL donated $90,000.
Today, the Bainbridge Island Friends of the Library has approximately 75 volunteers and is governed by a Board of Directors.
In Memory Of
When one of our volunteers leaves this life, it is a saddening event for all of us.
Here
are some of the more recent volunteers we hold in our memories.